Oh my gosh and golly. I've had 108 page views so far today! That is definitely an all-time personal record. Thanks to
the Nester
and her
Risk Party
! I'm guessing it has something to do with the photo thumbnail that I put up, since I know that's what I was looking at with all of the other entries. Here's a nice, big version of that little thumbnail:
I'm hoping that people weren't clicking to check out the dirty dishes on the counter. Or the crock drying on the stove. Or the dirty dishtowel that doesn't match the color scheme.
Or the cupboard door that still isn't hung. Or the missing outlet covers. Or… well, I don't think I want to keep pointing everything out.
I know that people probably aren't as focused on my messy, imperfect kitchen as I think they are. Because their kitchen probably looks similar, or would if they were in the middle of a renovation. I'm hoping that they clicked on it because they saw how the floor was half peeled up and maybe wanted to know how I did it. (Elbow grease, a metal putty knife, and for part of it a heat gun.) Or maybe they clicked on it because the combination of white cabinets with turquoise walls is just awesome. Or because they love my teapot as much as I do (clearance from HomeGoods).
I've actually finished peeling up that half of the kitchen floor (sorry, no photo, but imagine that it's all plywood) – and I smartened up a little bit and broke out the heat gun (borrowed months ago from dad for another project). Without the heat gun each tile took a good 3-5 minutes of strenuous muscle use and scraping with a putty knife. With the heat gun it took 2-3 minutes top per tile and much less muscle power. And a lot less scraped knuckles!
Can I just take a moment say how handy

it is to have a dad who lives 1.4 miles away and has a full range of tools at my disposal, provided I'm very careful with them and don't break them (or myself)? Thanks, dad!
I have 36 full tiles and 14 partial tiles left to scrape (or thereabouts), then I can start taking the screws out of that layer of subfloor and see if it will come up. I'm crossing my fingers that he didn't use glue. Please let there be no glue. I really want this to go smoothly. Or as smoothly as possible considering I have to take up the subfloor in the first place.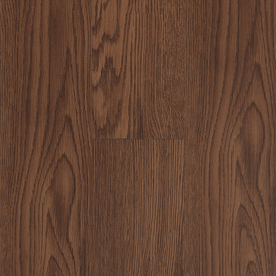 Lowes.com
Once I have it up we can fix the dishwasher. Then I can scrub the heck out of the newly exposed old subfloor. THEN, I can lay down the new vinyl flooring tiles. But they don't look like vinyl tiles, they look like wood. Sweet, huh? The tile is plank sized, 4"x36", so I won't have that obviously fake parquet floor look going. The actual flooring looks darker than on the screen, but you get the idea.
I may paint the ceiling before I lay the flooring, it would probably be a smart idea. Less danger of paint oopsies.
While I'm on the subject of fixing the dishwasher (which brought on this whole project in the first place), does anyone know how to replace hoses? Or how to check to see if that's even the problem? I have no idea, and my favorite handyman is currently laid up for a couple of weeks.